Posts Tagged 'Gross domestic product'
Write-off the US at your own risk. They have been there and done that. For instance between 1995-2005, the tech boom pulled out the US from a deep slump.
The Senate has signed off. The president's borrowing power has been floated up to $10 trillion, which beats the AmEx black card. The president's limit when he came into office in 2001 was $6 trillion. So it's been hiked an average of $500 billion per year during his eight years of office.

Five Countries with the Highest External Debt, 2006

1. United States $10.0 trillion
2. United Kingdom, $8.3 trillion
3. Germany, $3.9 trillion
4. France, $3.5 trillion
5. Italy, $2.0 trillion
Source: CIA, The World Factbook, as of 9/20/07.

Five Countries with the Highest Current Account Deficits, 2006

1. United States, -$862.3 billion
2. Spain, -$98.6 billion
3. United Kingdom, -$57.7 billion
4. Australia, -$41.6 billion
5. France, -$38.0 billion
Source: CIA, The World Factbook, as of 9/20/07.

(via John Tepper Marlin: The U.S. 10-Trillion-Dollar Debt Limit).
Latest count
Now, an update on this status.
US Government debt has crossed US$14 trillion. That is equal to US GDP. It means that the US govt. alone owes as much money as what the entire USA earns each year (GDP). Corporate debt (150% of GDP) and individual household debt (150% of GDP) is on top of this. Since, finally household pay of all the debts, the US citizen is about 400% of income in debt.
Britain is about 500% in debt. The difference between exports and imports is current account deficit. All these countries are also running a huge current deficit.
What to do
In the medium term, control over oil may give the West the means to sustain the life-style that makes them 'world-leaders'. No wonder the West is willing to kill millions in Iraq, Afghanistan, Libya. But all this killing is also an expensive affair. This killing of millions in Iraq, Afghanistan, Pakistan, Libya is costing US$ trillions.
After that …
Related articles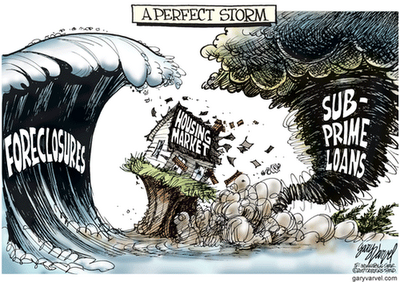 The Organisation for Economic Co-operation and Development (OECD) has warned that the world's 30 leading industrialized economies will see their indebtedness grow to 100% of output in 2010, a near doubling from the percentage 20 years ago. (via Public debt imperils world economy – International News – livemint.com).
Till the fat lady sings
The debt spiral is not ended yet.
Like the Dubai crash shows, the world economy is not yet out of the woods. Struggling firms, in the face of a weak consumer and industrial markets, may just keel over. A domino effect may set off yet another round of closures, bankruptcies, mergers, and defaults.
More importantly, are Western Governments. With public debt (read that as Government debt) exceeding 100% of GDP for every Western Government – Ireland at more than 1000%, Britain at nearly 200%, US at more than 100%, they are the vulnerable soft-spot of the global economy.
I want more
The shopping bill for Western welfare state is not going away – except up. Welfare bills are getting more ambitious – and the domestic lobbies want more ambitious schemes. High cost economies are being protected by barriers and stockades.
Run … hide … but you can't turn your back
The political constructs of the West have hit a wall – and there is no way but down! Since the West is busy hiding elephants in the room, the need for a different political ideology remains unaddressed.
An ideology like भारत-तंत्र Bharat-tantra.
Related articles
Categories:

BRICS, Europe, Global Finance, History, India, Media, Politics, USA, World Economy
America, Anglo-Saxon Bloc, Bretton Woods, Britain, China, Christianity, Colonialism, Debt, Dollar Hegemony, Dollar Yuan, Dubai, Europe, Government, Government debt, Gross domestic product, History, India, Japan, oil dollar, Oil Dollar Tango, Organisation for Economic Co-operation and Development, revaluation, United States public debt, USA, Welfare estate, Western world, World Economy